Let's play it by ear: Informal Learning with Podcasts
Podcasting typically refers to the process of providing audio episodes on a regular schedule with a specific RSS feed that allows listeners to capture the content on mobile devices such as smartphones or tablets. First coined in 2004, the term podcast was elected word of the year by the editors of the New Oxford American Dictionary. Over a decade later, the medium has continued to grow and thrive. The Atlantic reports more than 300.000 podcasts at the end of 2015.
As universities strive to offer seamless learning experiences to their students, more and more teachers use on demand learning content such as apps, mobile sites, e-learning modules and videos to supplement lessons – why not add podcasting to the mix? While iTunesU and various other portals that aggregate lecture recordings have been widely successful, very few teachers use podcasting for carefully produced and curated learning content. As Kim, Rueckert & Hwang (2008) stated: 'Podcasting provides a new medium of education that hasn't been used yet to its potential'. Despite the mediums recent broad media attention, that was created, in part, through the success of the podcast Serial, this statement still holds true today.
Among the barriers to widespread adoption are the production effort and the difficulty of finding a voice in a medium that is unfamiliar to most faculty and teachers: Anyone can podcast, but creating podcasts with true educational value is tough – it requires content that is substantive, engaging, and relevant to specific teaching and learning goals. While there are some studies on podcast design (cf. Dennen & Myers, 2010), there is no tried-and-true 'podcast pedagogy'. However, most practitioners and researchers agree that the personal tone and authentic narrative of podcasting enhances learner motivation. Van Baalen-Wood & Boggs. (2015) reported a perception of increased connectedness and satisfaction with online learning among both instructors and students through podcasting.
What does it take to make a podcast? In this blog post, I explain the production steps, the tools and the editing process of 'Beyond the Bench', a podcast by the NC Judicial College at UNC School of Government. I am currently producing season 2, and wanted to use the opportunity to offer a look behind the scenes. To learn more about the faculty perspective of being a podcast host, watch out for our upcoming post 'Running your own show'.
Recording
The episodes of of Beyond the Bench are recorded with a simple, hand-held microphone, or, alternatively, with Zencastr, a free online podcasting service. We do not strive to achieve the highest possible audio quality. Instead, we are trying to have a process in place that allows our faculty hosts to easily record their interviews and stories.
Editing
Once all the interview material is gathered, the process of selecting the material for each episode begins. The faculty host needs to listen through the material and decide which segments fit in the overall storyline. In our case, we used Google Drive to create an online directory with folders for each episode.
In the shared directory, the production team (instructional designer and work study students) place the audio snippets that the host has identified as relevant for each episode. Once this process is completed, the podcast team meets for an editorial session to sketch out the story of the episode. The faculty host then orders the segments and records the narration between interview segments. This material is brought into a first raw cut, which then goes through several rounds of editing. Last but not least, we add music to the mix. There are many professional, for-purchase archives for audio snippets such as audioblocks.com. In addition, creative commons background music for podcasts can be found on freesound.org. If you are looking for a specific song that you can use without licensing fees, try Wikimedia.
We edit all episodes with Adobe Creative Cloud Audition – the multitrack option makes it easy to work with a multitude of audio snippets and sound bytes. Other editing products common in the podcasting world are the low-cost product Hindenburg, and the free options Audacity and GarageBand (for Mac).
Broadcasting and Monitoring
Once a podcast is recorded and edited, you need to think about the distribution channels. For Beyond the Bench, we set up a WordPress site with a podcast theme and the plugin Seriously Simple Podcasting.
The resulting podcast feed was submitted to iTunes and Sticher. On iTunes, podcast hosts can manage their channel online at podcastconnect.apple.com. On Sticher, content providers can sign in to partners.stitcher.com.
Since we already had a WordPress multisite installation, our hosting solution was very easy to set up. Other options are cloud based podcast hosting services such as podbean and libsyn. Last but least, every content provider wants to know how many people are listening: We monitor download statistics for our podcast episodes with the WordPress plugin Seriously Simple Stats, which offers basic download information for each episode and breaks down the listening sources More comprehensive monitoring options can be found on podtrac.com, which requires you to add a prefix to your RSS feed.
Listening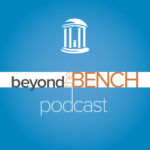 Season 2 of Beyond the Bench tells the story of homelessness, neglect and the child welfare system in NC: It explores what family homeless looks like, whether homelessness is child neglect, and if and when it is, how the child welfare system responds to families affected by homelessness. The show follows two court cases from the past year and each episode represents a different stage in the child welfare process. Interviews reflect the various perspectives in a case, including shelter providers, county departments, a parent attorney, the children's guardian ad litem, and the court. If you want to see how the podcast turns out, subscribe or listen online at podcast.sog.unc.edu.
Further Reading
Dennen, V. & Myers, J. (2010). Podcast Pedagogy: Message Design, Motivation, and Learning. In J. Sanchez & K. Zhang (Eds.), Proceedings of E-Learn: World Conference on E-Learning in Corporate, Government, Healthcare, and Higher Education 2010 (pp. 43-49). Chesapeake, VA: Association for the Advancement of Computing in Education (AACE). https://www.learntechlib.org/p/35508
Kim, D., Rueckert, D. & Hwang, Y. (2008). Let's create a podcast!. In K. McFerrin, R. Weber, R. Carlsen & D. Willis (Eds.), Proceedings of Society for Information Technology & Teacher Education International Conference 2008 (pp. 3563-3567). Chesapeake, VA: Association for the Advancement of Computing in Education (AACE). https://www.learntechlib.org/p/27797
Van Baalen-Wood, M. & Boggs, C. (2015). Is Anybody There? Podcasting in Online Learning. In S. Carliner, C. Fulford & N. Ostashewski (Eds.), Proceedings of EdMedia: World Conference on Educational Media and Technology 2015 (pp. 175-181). Association for the Advancement of Computing in Education (AACE). https://www.learntechlib.org/p/151413
Coens, J., Senecaut, M.P., Reynvoet, B. & Clarebout, G. (2011). Listening to an Educational Podcast While Driving a Car: Can Students Really Multitask?. In T. Bastiaens & M. Ebner (Eds.), Proceedings of EdMedia: World Conference on Educational Media and Technology 2011 (pp. 3858-3863). Association for the Advancement of Computing in Education (AACE). https://www.learntechlib.org/p/38416